TURNKEY BUILDING SOLUTIONS
Recognizing the interdependencies that exist between the different phases of the construction process, we at Ramcons have built proficiency that enables us to provide comprehensive building solutions for all your construction requirements. Our services encompass the entire gamut of the construction process, from design and consultant coordination to approvals, execution, project management, progress, and handover.
We strive to visualize the holistic nature of the project and execute stellar designs by renowned architects from all over the country. This enables us to create truly timeless landmarks. We go that extra mile in helping build magnificence that rises from your most cherished dreams.
END-TO-END TURNKEY PROJECT MANAGEMENT
We harness our expertise in every aspect of project management to offer comprehensive solutions, from start to finish. Our services encompass the following: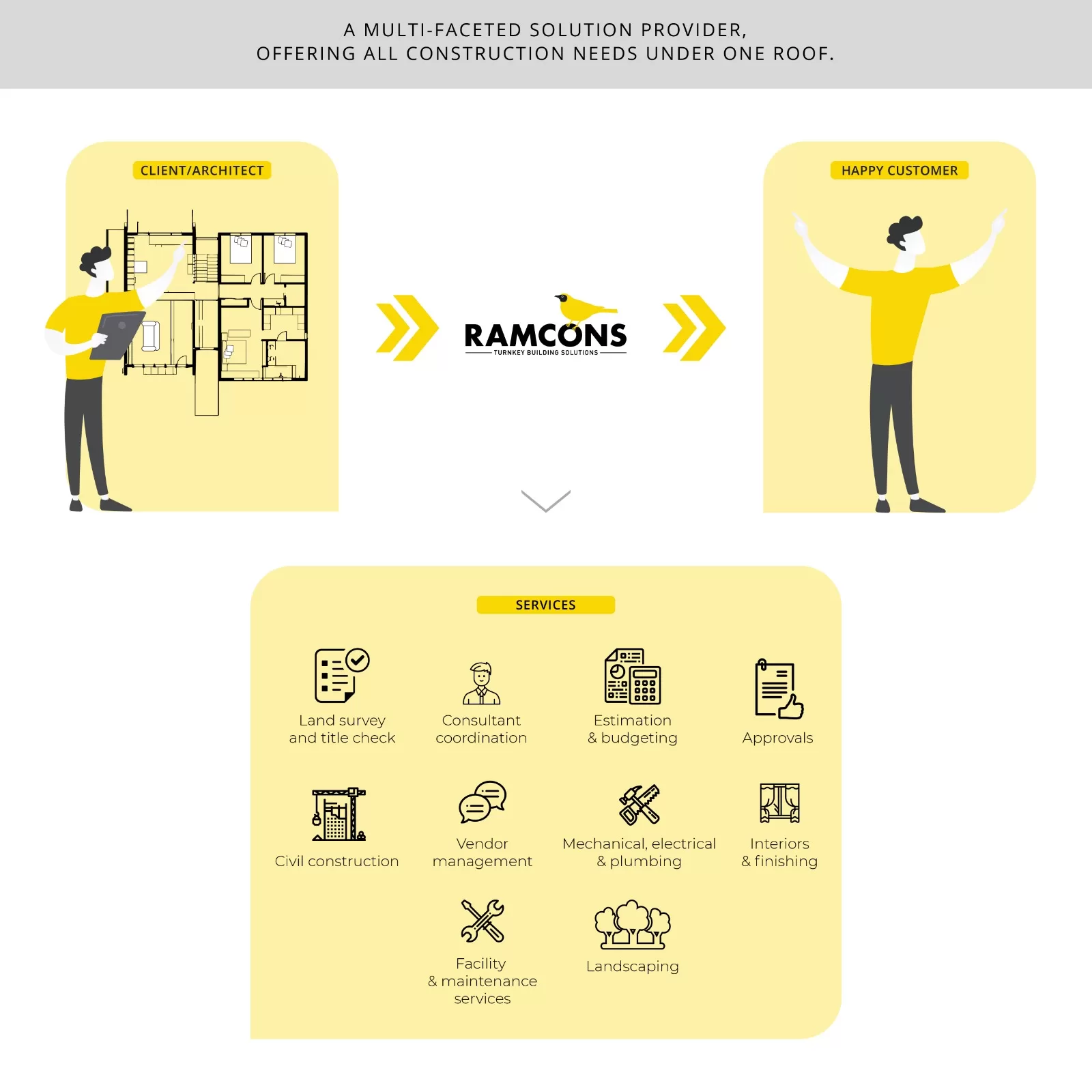 Limitless Advantages
Nothing is more detrimental to the timeline of a project than having to deal with multiple agencies and trying to get them to interact with each other. The turnkey method is based on a collaborative approach where the client, designer, and builder work as a team, with their interests aligned.
Onboarding a turnkey provider ensures that accountability lies with one entity for all aspects of a project. This results in better planning, scheduling, and coordination of works between vendors and stakeholders of the projects to ensure smooth execution, consistent quality, and timely delivery across all phases of construction.
As the turnkey contractor also plays the role of the Project Management Consultant due to their knowledge and involvement in all aspects of the project, errors and rework are avoided saving the client time and money. Last but not the least there is no finger pointing, blame games or negative engagement through the entire span of the project.
Brochure